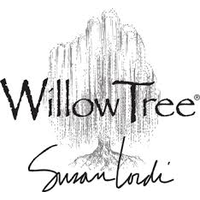 Willow Tree - Around You

AROUND YOU
"Just the Nearness of You"
"I wanted to sculpt a young couple, finding romantic love – the butterflies and uncertainty, the chemistry and electricity – discovered when you're in each other's presence. I wanted the piece to be tender and intimate, elegant and quiet… Since the pose is derived from dance, I also wanted it to appear to have movement as you look at different angles.
"My challenge was to carve completely in the round, so that from every view, you have a different understanding… you see variations. There's no correct way to position the piece.
"There are three touch points – their fingers on both hands, and the tops of their heads. I like this bit of connection… the tingly excitement and shared energy that comes from moments together with a new love."
Willow Tree hand-carved sculptures speak in quiet ways to heal comfort protect and inspire. Susan Lordi identifies emotions so important for us to convey and renders them in simple pure gestures. Susan says "I try to keep the interpretation of the figurines open. I hope this makes it more personal and allows the viewer to decide its meaning"
Product Information:

Dimensions: 16.5cm H
Materials: Resin
Sculptured by Susan Lordi
Beautifully gift boxed
Includes enclosure card for gift giving
Care instructions: Dust with soft brush or cloth. Avoid water or cleaning solvents.