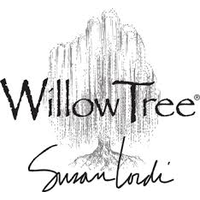 WILLOW TREE FIGURINE - BUTTERFLY
Sentiment: "Resilient, determined, courageous and beautiful. You have the qualities to transform your world"
Willow Tree is an intimate line of figurative sculptures representing sentiments of love, closeness, healing, courage, hope...all the emotions we encounter in life. This iconic figure of peace and serenity is a tangible reminder of healing, comfort, hopefulness and remembrance in times of sorrow. 'I see the monarch butterfly as a true metaphor - for the desire in each of us to be our best, to live resiliently, to thrive, to make a positive difference in the world. - Susan Lordi.
Height:16.5cm x Width:14.5cm x Depth:6.5cm