Willow Tree - Ever Remember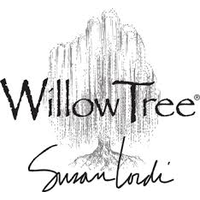 EVER REMEMBER
"A flame continues to glow, safe within"
Made of Resin. Applied gold leaf 
17.5 cm approx


"I want this piece to be very personal to someone who has lost a loved one. The form is very simple, very pure. I think when someone dies, they're still a part of you—they haven't left you. Their essence lives within you and the memories that you shared keep them alive in your heart, like an inner light, a gift that glows from within. You feel it always, and you keep it safe. I hope this figure is a healing reminder, that positive energy and good things will continue to radiate from the spirit of one you love." –Susan Lordi
Willow Tree hand-carved sculptures speak in quiet ways to heal comfort protect and inspire. Susan Lordi identifies emotions so important for us to convey and renders them in simple pure gestures. Susan says "I try to keep the interpretation of the figurines open. I hope this makes it more personal and allows the viewer to decide its meaning"
Susan's inspiration comes from her love of family, closeness to special friends and with an appreciation of nature;
Her designs reflect and help us treasure our relationship to the special people close to us.
With an angel for everyone and every occasion.