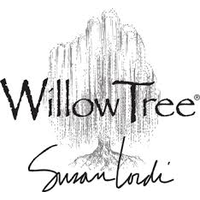 Willow Tree - Tapestry
TAPESTRY
Sentiment: "A tapestry of memories...beautifully woven, deeply loved"
"This piece is very much about healing. Her gesture is protective. While carving the relief pattern on her dress, I just kept carving... I wanted to push the message further, so I kept going, surrounding her with nature and everyday objects—metaphorical of a life well lived. The carved icons reflect our connections to those we love. Our story is one we share with others, all woven together, as in a tapestry. When we lose someone special, our shared experiences and memories become all the more precious to us."
Willow Tree hand-carved sculptures speak in quiet ways to heal comfort protect and inspire. Susan Lordi identifies emotions so important for us to convey and renders them in simple pure gestures. Susan says "I try to keep the interpretation of the figurines open. I hope this makes it more personal and allows the viewer to decide its meaning"
Product Information:

Dimensions: 12.7cm H
Materials: Resin
Sculptured by Susan Lordi
Beautifully gift boxed
Includes enclosure card for gift giving
Care instructions: Dust with soft brush or cloth. Avoid water or cleaning solvents.