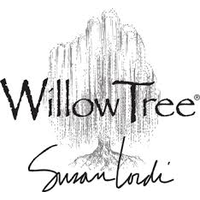 Willow Tree - Always
ALWAYS
"I Feel The Strength of Your Love"
Willow Tree hand-carved sculptures speak in quiet ways to heal comfort protect and inspire. Susan Lordi identifies emotions so important for us to convey and renders them in simple pure gestures. Susan says "I try to keep the interpretation of the figurines open. I hope this makes it more personal and allows the viewer to decide its meaning"
"This piece is about the strength and permanence of love. The figure's gesture proclaims, in an outward way, the happiness of being loved… and that love endures – it has, and always will be there.
"The etched rock echoes this idea of permanence and strength. Petroglyphs (etchings in stone) were ancient history's graffiti – a way of mark-making that expressed feelings in a visual way. We value petroglyphs because they have endured for thousands of years. We treasure that which survives the test of time.
"So the whole piece communicates a love that is strong, sure and lasting."
 Product Information:
Dimensions: 15cm H
Materials: Resin
Sculptured by Susan Lordi
Beautifully gift boxed
Includes enclosure card for gift giving
Care instructions: Dust with soft brush or cloth. Avoid water or cleaning solvents.