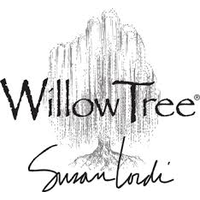 Willow Tree - Home

HOME
"Together, our family is home"
Willow Tree hand-carved sculptures speak in quiet ways to heal comfort protect and inspire. Susan Lordi identifies emotions so important for us to convey and renders them in simple pure gestures. Susan says "I try to keep the interpretation of the figurines open. I hope this makes it more personal and allows the viewer to decide its meaning"
As Interpreted by Susan Lordi the creater of these beautiful figurines "
"I wanted to capture the time in your life when there's a lot of excitement, happiness, yet a big unknown. This piece connects the concepts of Home and Family — you are creating your own family — your own home. There's been a shift in your life cycle. It's about establishing roots in a way that centers and grounds you as a couple. It can be scary, but also has you in awe. Together, you're creating a sense of place — building something — permanence and belonging. To each other and to the someone else that you haven't met yet, but that you already love. I wanted the title to have a hidden layer of discovery ... I like the twist of taking a noun and using it as an adjective to explain a feeling one might have, but can't always verbally express".
Product Information:

Dimensions: 22cm H
Materials: Resin
Sculptured by Susan Lordi
Beautifully gift boxed
Includes enclosure card for gift giving
Care instructions: Dust with soft brush or cloth. Avoid water or cleaning solvents.