Willow Tree - Love My Cat (Light)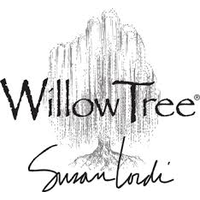 Willow Tree - Love My Cat (Light)
LOVE MY CAT 

"Always with me, full of personality"

Our pets become much more than pets to us...they are constant companions, best friends, playmates, therapists, and always, always by our side, on our lap, at our feet. "Somehow our pets sense-they just know-how we feel. And totally accept us, in whatever emotional or physical state we appear. They teach us about friendship and patience and inner peace. They support us with loyalty, softness, an independent spirit and expressive gaze. It is true that animals have a sixth sense. It is the sense of love, unconditionally." - Susan Lordi.
Willow Tree hand-carved sculptures speak in quiet ways to heal comfort protect and inspire. Susan Lordi identifies emotions so important for us to convey and renders them in simple pure gestures. Susan says "I try to keep the interpretation of the figurines open. I hope this makes it more personal and allows the viewer to decide its meaning"
**Not a toy or children's product. Intended for adults only

Product Information:

Dimensions: 7.5cm H x 3cm W x 3cm D
Materials: Resin
Sculptured by Susan Lordi
Beautifully gift boxed
Includes enclosure card for gift giving
Care instructions: Dust with soft brush or cloth. Avoid water or cleaning solvents.