Willow Tree - Loving My Mother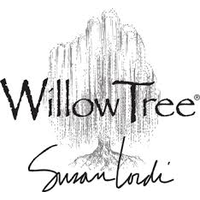 Willow Tree - Loving My Mother
LOVING MY MOTHER
"I'm here for you, as you've always been for me"
"As I was sculpting this piece, I was thinking about being—there—for my mom in however she needs me. Realizing how much she did for us our whole lives, I feel good when I can return some of the same. All the meals, all the holidays, all the little caring things, the sacrifices she made, all she taught us about the world... for me and my siblings, for my children and their children—as a mother, a grandmother, a great-grandmother—she gave us a foundation of love! Whenever I thank my mom for all she's done for me, she always smiles and says 'You do the same for yours.'" –Susan Lordi
A gift to express the caring relationship between adult daughter and older mother, as they progress through life together, and roles of caregiving become reversed
Willow Tree hand-carved sculptures speak in quiet ways to heal comfort protect and inspire. Susan Lordi identifies emotions so important for us to convey and renders them in simple pure gestures. Susan says "I try to keep the interpretation of the figurines open. I hope this makes it more personal and allows the viewer to decide its meaning"
Product Information:

Dimensions: 15cm H
Materials: Resin
Sculptured by Susan Lordi
Beautifully gift boxed
Includes enclosure card for gift giving
Care instructions: Dust with soft brush or cloth. Avoid water or cleaning solvents.