Willow Tree - My New Baby (Blush Pink)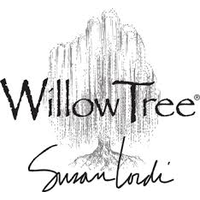 Willow Tree - My New Baby (Blush Pink)
MY NEW BABY
"Lots to learn to love to grow together"
Willow Tree is an intimate line of figurative sculptures representing sentiments of love, closeness, healing, courage, hope...all the emotions we encounter in life. This iconic figure of peace and serenity is a tangible reminder of healing, comfort, hopefulness and remembrance in times of sorrow. "One of my favourite photos, taken long ago, is of my then-toddler daughter holding her newborn brother in exactly this pose. Growing up together, they had to work things out... the push and pull, all the spats that siblings go through... gradually learning to love and support one another, until eventually discovering... they are each other's greatest gift" - Susan Lordi.
Willow Tree hand-carved sculptures speak in quiet ways to heal comfort protect and inspire. Susan Lordi identifies emotions so important for us to convey and renders them in simple pure gestures. Susan says "I try to keep the interpretation of the figurines open. I hope this makes it more personal and allows the viewer to decide its meaning"
Product Information:
Dimensions: 7cm H x 6.5cm x 7.5cm D
Materials: Resin
Sculptured by Susan Lordi
Beautifully gift boxed
Includes enclosure card for gift giving
Care instructions: Dust with soft brush or cloth. Avoid water or cleaning solvents.